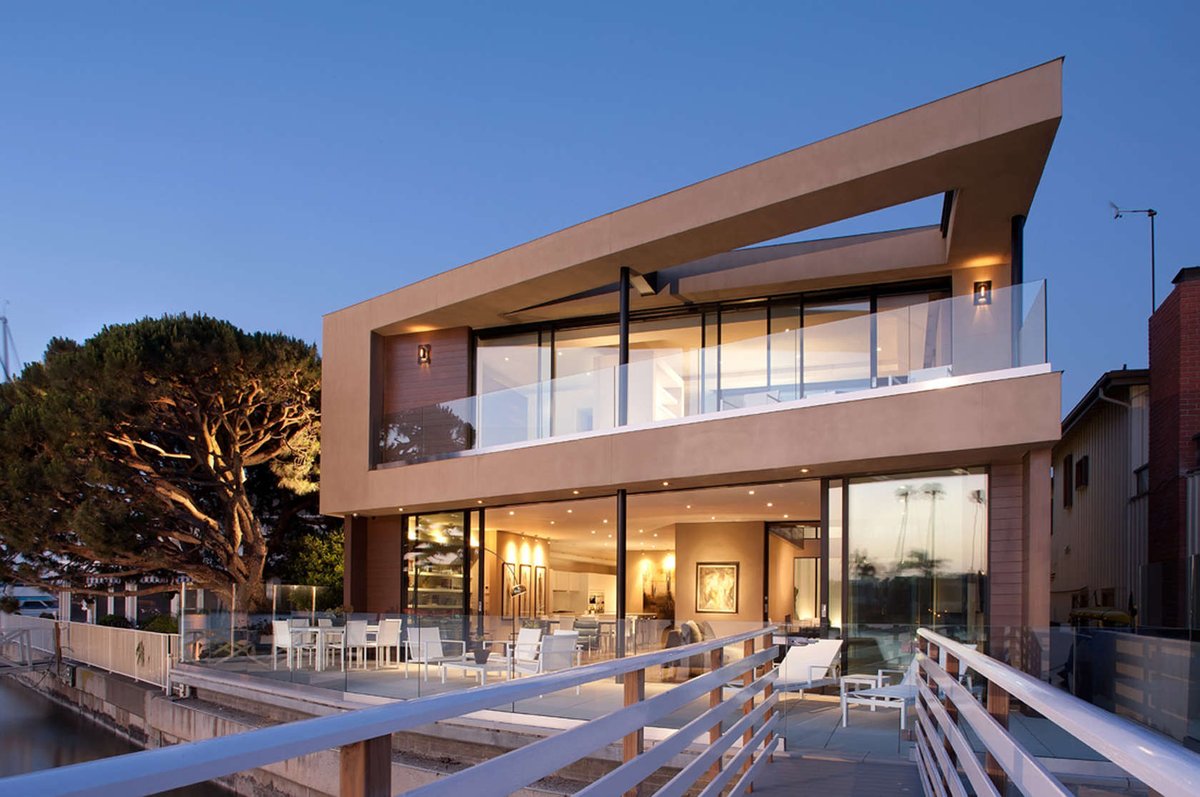 Located in Long Beach, California, this contemporary seafront residence was designed in 2012 by Surber Barber Choate + Hertlein Architects.
Located on a narrow site in a rather dense neighborhood in southern California, this single family house fronts the street to the east with solidity, but is conversely open and transparent to the west, taking advantage of waterfront views of a deep water lagoon and the Pacific Ocean. The house is organized around a courtyard containing a swimming pool, securely contained on four sides but open to the sky above. Responding to the mild climate, walls of sliding glass open to unite the interior space with the courtyard, terraces, and views of sailboats and the sea beyond.
Statement concerning design program and solution:
This single-family residence occupies an infill site near Los Angeles, located along a navigable lagoon leading to the Pacific Ocean, which is visible nearby. The program called for living/dining/kitchen space, 3 bedrooms with bathrooms, a study, 2 car garage, swimming pool, and outdoor porches.
The site is deep and narrow, fronting a busy residential street characterized by minimal setbacks and narrow gaps between each house. Densely configured houses along the street strive to maximize their waterfront property, enjoying proximity to private docks along the lagoon, which typically is busy with recreational water traffic– sailboats, crew, and kayaks. The Pacific Ocean is visible beyond a beach isthmus and causeway to the west.
The design objective was to create a house that insured privacy and security from the street and sides, while capitalizing on the ocean breezes and nautical views to the west. In the resulting composition, the spaces of the house on both levels wrap around a swimming pool on three sides (east, north, and west). A wall of translucent panels along the south side of the long, narrow pool courtyard provides privacy without diminishing available natural light. At night, the translucent wall is backlit, providing diffused light to the courtyard. Private spaces are located on the upper level, leaving the public areas to encircle the pool on the main level, maximizing the opportunity for open space.
The mild climate allows for open-air living, with interior spaces opened to the outside for most of the year. Retractable glass door systems allow the interior and exterior to merge with the terraces along the waterfront, as well as into the pool courtyard, capturing breezes throughout for natural ventilation.
Solar panels on the roof allow the owner to reduce energy consumption. Sometimes he sells electricity back to the power company.
Visit Surber Barber Choate + Hertlein Architects