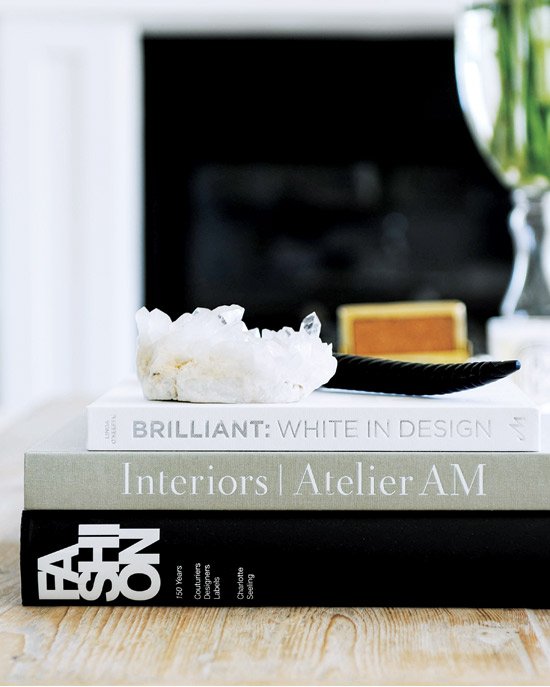 Give your inbox a style makeover!
Give your inbox a style makeover!
Search in:
Search in:
Give your inbox a style makeover!
Take a tour of Monika Hibbs's interesting and inviting home!

Author: Tracey Ayton

When this Vancouver new-build's white and beige colour palette gets paired with an array of textures and patterns, the scheme reads interesting and inviting.
2012 isn't just a banner year for Monika Hibbs – the stylish visionary behind the popular lifestyle blog The Doctor's Closet – it was more like a flashing marquee. Monika, a former doctor (hence the blog's name), and her husband, Troy, an entrepreneur, decided to build their dream home that summer. Just one month later, Monika learned she was pregnant with their first child. And then, to top off a roller coaster of a year, the couple moved into the house just two days shy of Christmas Day. "It was definitely crazy but so very exciting, too," says Monika.
When it came to decorating their 4,000-square-foot four-bedroom abode in Langley, B.C., Monika struggled to narrow down her choices. With a blog that covers fashion, beauty, decor and the like, her daily exposure to trends didn't make the decision-making process easy. "So I stuck to a beige and white scheme to make it simple. Our motto was, 'If in doubt, pick white.'"
Design by Stephanie Jean Design
Hallway
Monika and her husband, Troy, decided on wainscotting in the front hallway to increase the architectural character of the new-build home. "We really invested in the details, from the moulding and panelling to the millwork," she says.
Kitchen design
Initially, Monika wanted a marble backsplash in a herringbone pattern for the kitchen. But in the end, she chose a more budget-friendly subway tile. "It's our first home, so we did have to keep costs in mind," she says. "this is the next best thing, and it's also a classic."
White kitchen decor
The Carrara-marble-topped countertop compliments the simple and chic white kitchen.
Dining area
In the dining room, oversized pendant lights were substantial enough for Troy and pretty enough for Monika. The dining table's weathered wood reflects the coffee table in the adjacent living room, while a white built-in cabinet at the end of the space seems to disappear into the wall.
Living room
Symmetry reigns supreme in the living room, where sofas flank a gas fireplace. "Having two couches keeps the room open," says Monika. "We liked this idea much more than bringing in a sectional and some chairs." The bench offers additional seating for entertaining.
Table books
Monika stacked some coffee table books in the living room as decorative accents.
Gold étagère
The gold étagère open shelves create a revolving display space for everything from personal photos to favourite books. Pink ombré drapes make a statement.
Office gallery wall
In Monika's office, a gallery wall represents the work of some of her fellow lifestyle bloggers. "I love art with sayings – it can be changed with the season or my mood," she says.
Office lounge area
The upstairs home office is the most playful room in the house. "I wanted a pretty place where I could be inspired," explains Monika. The neon "by monika" sign, custom made by a local company, is the perfect visual expression of her lifestyle brand.
Desk area
Monika puts her office to good use, working on her blog and online store, where she sells her jewellery line, Bfrend, and other cute goodies. The white desk and Ghost-style office chair are in keeping with the room's airy, feminine feel.
Office accessories
White accents fill the office space. "I spend about three to five hours here each day, so it's important for me to have a place to escape and buckle down," she says. With all the white in the rest of the house, why the splashes of hot pink here? "Funny you should ask,"she says. "I call it my favourite undercover colour, because it does pop up a lot in my work."
Bedroom
Monika and Troy agreed on a master bedroom that would be simple, gender-neutral and bright. "For both of us, this look epitomizes comfort," she says. A patterned toss cushion in the middle of the bed pulls together the room's varying warm and cool shades of white.
Find helpful decor and design inspiration from our list of the year's hottest trends.
Decor and design trends: Get the inside scoop on the year's most popular decor and design trends.
2017 kitchen design trends: Find the year's most popular kitchen trends from our go-to designers and decorators.
2017 bathroom design trends: Find out what's popular in bathroom designs for 2017.
Lead image credits (top to bottom); Virginia Macdonald, Stacey Cohen Design, Donna Griffith
Discover how simple and easy it is to make your own quick-rise dough!

Author: Maya Visnyei

Master this quick-rise dough recipe and you'll be serving delicious breads for breakfast, lunch and dinner.
Ingredients
Directions
1 In the bowl of a stand mixer, dissolve 1 teaspoon of the sugar in the warm water. Sprinkle the yeast overtop and let stand until frothy, about 10 minutes.
2 Meanwhile, in a small saucepan, stir together the remaining sugar, milk, butter and salt over medium-low heat until the butter is melted; remove from the heat and let cool until lukewarm.
3 Add the milk mixture to the yeast mixture in the bowl of the stand mixer; add the eggs and stir until combined. With the stand mixer fitted with the whisk attachment, gradually beat in 1 1/2 cups of the flour; beat until smooth, about 2 minutes. Using a wooden spoon, gradually stir in enough of the remaining flour to make a soft, sticky dough that comes away from the sides of the bowl.
4 Change the attachment on the stand mixer to the dough hook and knead until smooth, about 6 minutes, adding more flour if the dough begins to stick to the sides of the bowl.
5 Turn the dough onto a lightly floured surface; knead with your hands until the dough forms a smooth ball, about 1 minute.
6 Place the dough in a greased bowl, turning the ball to grease it all over.
7 Cover and let the dough rise in a warm draft-free place until soft, airy and almost doubled in size, about 1 hour.
Prep & cook time: 1 1/2 hours
Makes: 1 batch
DIY project: Stylish storage cabinet

Author: Style At Home

If you love spice, you're going to love this recipe for tunisian shakshuka.

Author: Maya Visnyei

A Middle Eastern twist to the classic baked egg, served with bread or pita.
Ingredients
Directions
1 Heat the olive oil in a large skillet over medium heat. Add the garlic and onion and cook, stirring occasionally, for 5 minutes, until the onion is just beginning to colour.
2 Add the red and hot peppers and cook for 10 minutes more. Add the tomatoes, chickpeas, harissa, paprika and sea salt, along with ½ cup of water, and gently simmer for 15 to 20 minutes, until the mixture is softened and the tomatoes begin to break down. Divide the mixture among four individual skillets for serving.
3 Nestle the feta cubes into the tomatoes and peppers and make a divot in the top of each mixture with the back of a spoon; break an egg into the centre of each divot. (You can also cook the mixture all together in the large skillet and serve in one pan.)
4 Continue to cook for 8 to 10 minutes over medium heat, or until the eggs have set. Scatter with cilantro and serve with bread or pita for sopping up the juices.
Prep and cook time: 1½ hours
Serves 4
Tip: Harissa is a Tunisian spice mixture containing cumin, coriander, hot chilies, garlic and caraway. It can be purchased as a dry mix or a paste, but you can make your own using a combination of these spices as well.

Give your inbox a style makeover!