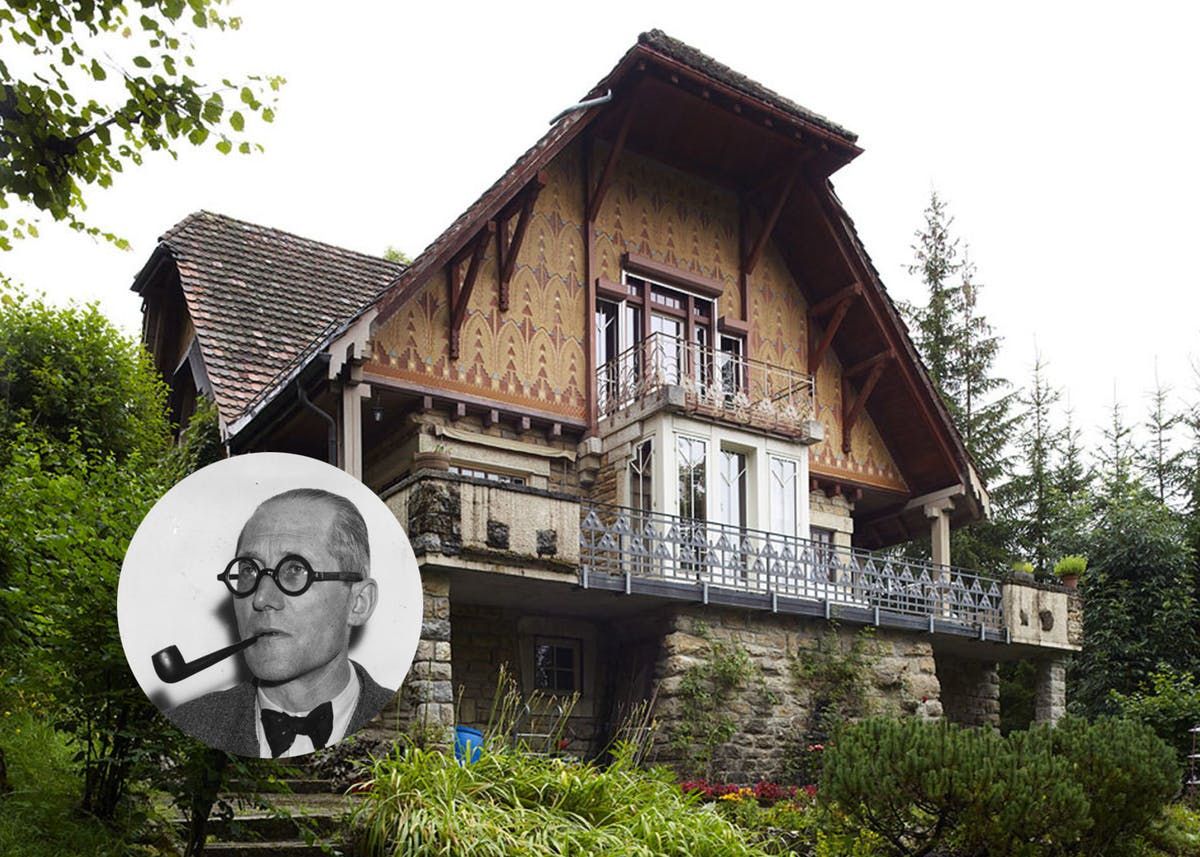 From the Ground Up is a series on Archinect focused on discovering the early stages & signs of history's most prolific architects. Starting from the beginning allows us to understand the long journey architecture takes in even the formative of hands and often, surprising shifts that occur in its journey. These early projects grant us a glimpse into the early, naive, ambitious and at points rough edges of soon to be architectural masters.
Before traveling through the Balkans in 1911, before taking on a pseudonym in 1920, before Villas La Roche, La Lac, Savoye, there was Villa Fallet. When studying as a watch engraver at The School of Art, Charles-Édouard Jeanneret enrolled in a course 'Nouvelle section' with the Swiss painter Charles l'Eplatteneir. The course studied regional form while applying practical training, aimed to broaden the student's skills and scope of work. [1] While still a student, Jeanneret and two of his peers received a commission to design and build Villa Fallet. Designed for the engraver Louis Fallet, the house was carried out under the supervision of another teacher and local architect, René Chapallaz. Though technically a commission by Chapallaz, Jeanneret never signed off on the project but is credited with overseeing the design, drawings, and construction. [2] Completed in 1906-1907 the house sits on a sloped site in La Chaux-de-Fonds near the Swiss-French border. His native La Chaux-de-Fonds would later become the site of his first official independent commissions, Villa Jeanneret-Perret and Villa Turque. 
However, Fallet proves to be a seminal project in forming Jeanneret's approach to context and invention of style which would continue to run throughout his life's career. Jeanneret and his peers were influenced by L'Eplatteneir's views on inventing a regionalist style and formed through the surrounding geography. [3] Decorated in motifs and detailed abstractions of pine cones, trees, and rocks, a series of stacked materials form the house as if grown from its landscape. 
At its base is a solid stone perimeter recessed at entrances and apertures. A concrete balcony wraps the first floor with traces of the stone below cast into its form. The upper floor cladded in engraved wood, all sits capped by the pitched roof. The plan, square in form, rotates around a central stair and leads to smaller divided rooms for living.
Though the regionalism of the Swiss Jura would eventually be erased from Le Corbusier's work, the method in which he viewed new environments and pursued an invention of style carried throughout his career. The training he received in his early years in La Chuax-de-Fonds would continue to form his future travels, work, and writings as the reinvented Le Corbusier.
Daniela Leon is the Founder and Executive Director of 5 And Under. Daniela is an architect from Canada. Her current work is invested in the language and communication of architecture through different mediums of text, image, video and exhibition. Daniela is a co-founder of PAX …
Are you sure you want to block this user and hide all related comments throughout the site?