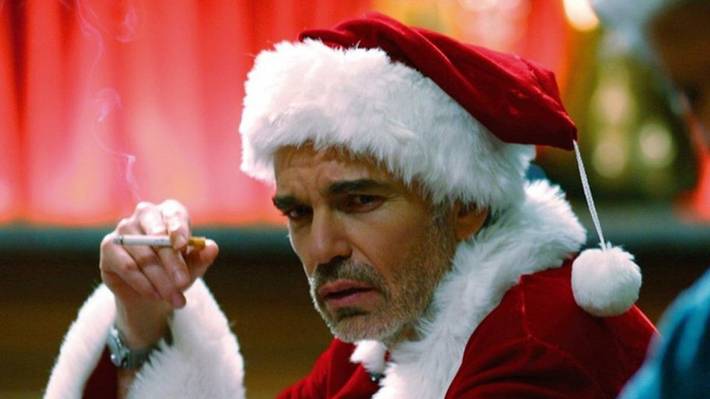 By Joshua Rothkopf and Time Out contributors
Posted: Wednesday October 26 2016
Ho-ho-hold it right there: Do the best Christmas movies need to star James Stewart and be 400 years old? Not necessarily. We love all shapes and sizes of holiday spirit, no matter if it arrives in the pint-sized form of Macaulay Culkin or in summer movies and blockbusters like Die Hard. Many of these classic Christmas movies you'll be able to find on Netflix—just make sure to get up from the couch once in a while to do your Christmas shopping, hang your stockings and, you know, go to work.
RECOMMENDED: Full guide to Christmas in New York
The yuletide movie to top them all tells the timeless tale of a suburban boy in the 1940s who only wants a Red Ryder BB gun from Santa—parental protestations ("You'll shoot your eye out!") be damned. Though filmed with a good-ol'-days nostalgic glow, director Bob Clark gives the gut-busting proceedings their fair share of tongue-on-flagpole edginess.
He drinks like a fish, swears like a sailor and the less said about his sexual proclivities, the better. Billy Bob Thornton's department-store Saint Nick is the furthest thing from being a saint, to say the least. The fact that Terry Zwigoff's misanthropic comedy somehow turns this pathetic sad sack into a sympathetic hero—and the movie into a foul-mouthed ode to good will toward men—is nothing short of a Christmas miracle.
Might a Macy's department store Santa (Edmund Gwenn) be the real thing? And will he survive his insanity trial? The vibe of this immortal studio favorite is snappy and comedic, but it also packs the wallop of an essential holiday truth: Christmas magic often requires us to rise to the occasion of being charmed.
Tinged with magical passages, buckets of good will and an alternate plotline with the disturbing kick of a Twilight Zone episode, this tribute to the efforts of a small-town do-gooder (James Stewart, in his most beloved role) cements the idea of Christmas as a time for giving.
An early slasher with an undeniable impact on future landmarks like Halloween and Friday the 13th, this cult essential takes place on a snowy college campus where sorority sisters find themselves targeted by a creep who lives in the attic. The mood is icy and ominous; it doesn't lift even after you turn on the lights and warm the eggnog.
Charles Dickens's classic tale has been adapted into everything from a musical to a star vehicle for the Muppets. This British film featuring the incomparable Alastair Sim as converted humbug Ebenezer Scrooge, however, is the definitive version. We dare you not to get a lump in your throat when Glyn Dearman's Tiny Tim says, "God bless us, one and all."
There's something incredibly lovely about first-rate stop-motion work, and this gorgeous musical about a botched Halloween-Christmas merger ranks up there with the old Rankin/Bass Xmas toons. Who else but Tim Burton, the project's patron, could have come up with such appealingly macabre mayhem?
By now as iconic as the story of Kris Kringle himself, this Peanuts-based perennial sends viewers into happy spasms of neck-tipped dancing year after year. Its most lasting achievement is Vince Guaraldi's breezy jazz score—whimsical and lovely like a falling snowflake.
Plenty of Christmas presents come with instructions, yet none are as ominous as the following: Never expose to bright light, never add water and, crucially, never feed after midnight. Joe Dante's horror-comedy turns a well-intentioned gift into a nightmare. Meanwhile, a traumatized Phoebe Cates tells the saddest Christmas story ever.
Will Ferrell's overgrown-child persona hilariously complements this comedy about a guileless giant elf searching for his dad in NYC, but the film's focus isn't just on the funny bone. There's an abundance of heart and soul in the way the film cherishes holiday cheer; in a genre that's become generically saccharine, this is one modern Christmas movie that's genuinely sweet.
The best movies ever made, from great comedies and classic romances to blockbusters and foreign gems
James Bond does Christmas in "On Her Majesty's Secret Service".
Are the four of you on drugs? Or are you just trying to annoy people and create controversy. We here in the real world take our "Top Christmas Movies" lists VERY seriously. You apparently did not. "Eyes Wide Shut" does not belong on a top movie list of ANY kind, let alone a Christmas movie list. Kubrick should not have come out of his 12-year hiatus for that awful film. Not having "The Family Man" on the list is an affront to Christmas movie lists. I actually suspect that the four of you secretly hate Christmas.
C'mon; how can you not include "Miracle on 34th St."?  It's classic AND it's New York. And "Shop Around the Corner" is so beloved it's been re-made a bunch of times; even Tom Hanks wanted to be Jimmy Stewart in that story. Plus, there's "An Affair to Remember," which is universally considered to be one of the most romantic movies of all time, and its big dramatic ending is on Christmas.
And one of the best parts of these (and other) classic Christmas movies is the way they engrave on our hearts and make magic of mere objects: Thanks to them, the shining toy train and the pair of ice skates or the beautiful, hand-woven scarf have come to represent Christmas Joy itself.
To those who also love these old classics: Check out this gift guide to holiday shopping in the movies. It's an entertaining read and tells where to get the goods to make your classic Christmas-movie memories come alive: http://helenhighly.com/gift-guide-to-holiday-shopping-in-the-movies
How can you not include The Ref, starring Denis Leary and Kevin Spacey? Hilarious!
@Debra E Thank you Debra.  I was just going to mention "The Ref", which is infinitely preferable to "Bad Santa".
For the old movie heads #38 is also known as the March of the Wooden Soldiers.  
REMEMBER THE NIGHT should be top five on any such list. That it didn't make the cut at all is mind-boggling. Barbara Stanwyck, Fred MacMurray, directed by Mitchell Leisen. It was written by Preston Sturges, for pete's sake. 
I can only presume that the staff behind this list has never seen it, which they can rectify on December 18, when it airs on TCM at 11:30 pm ET. One wonders, too, if they've seen THE BISHOP'S WIFE, HOLIDAY AFFAIR, THE SHOP AROUND THE CORNER and on and on.
Honestly, including TV specials (which are fine, but are NOT movies) on the list even as you leave out these all-time classics is mind-boggling.
The top 10 are not there.  🙁
Awesome list of Movies… Love it