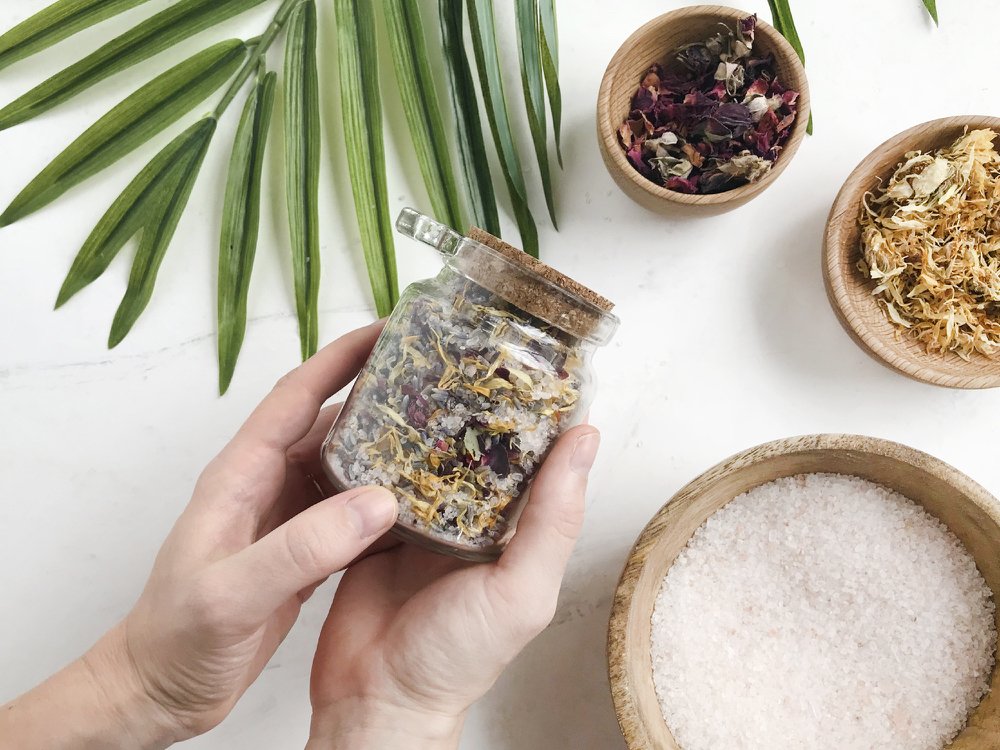 Feb 5, 2018
by Jessica Ulrich
Share this article on:
For weeks, you've been busy tackling resolutions and setting intentions for the year ahead. Whether you made good on your vow to get organized, got back in your workout groove, or just finally cleaned out the fridge, it's time to celebrate your progress. So draw a warm bath, and take a well-earned moment to reward yourself for all the hard work.
With just a few simple ingredients, it's easy to transform your tub time into a restorative, botanical-infused soak. This quick and easy DIY combines pretty pink Himalayan salt with soothing calendula, calming lavender, and refreshing rose.
At a glance
Time: 30 minutes or less
Difficulty: Beginner
Step 1: Measure one cup of pink Himalayan salt and pour it into a mixing bowl.
Step 2: Add 1-2 generous spoonfuls of lavender buds.
Step 3: Add a sizeable pinch of calendula flowers. Crush gently with your fingers and remove any dried stems or hard buds.
Step 4: Sprinkle in a large pinch of dried rose buds. Lightly crush any large flowers or petals and remove the hard buds and stems.
Step 5: Use a spoon to stir together the salt and flower petals. Add any additional buds or petals to balance the color and fragrance.
Step 6: Add 10 to 15 drops of essential oils. (We used Rose Absolute, but feel free to get creative with your favorite combinations). Continue stirring the mixture until all the ingredients are evenly distributed.
Step 7: Use a measuring cup or large spoon to pour the salt soak into a glass jar. Store in a cool, dry place until bath time.
To use: Pour a handful of your salt soak in a warm bath, letting the salt dissolve. Relax and enjoy!
Round out the perfect night in with these luxurious finds:
Projects, styling, and photography by Hannah Bridge, Brigette Muller, and Jessica Ulrich.
Jessica Ulrich is a senior social media specialist at Etsy. When she's not sharing tips for Etsy sellers or dreaming up DIYs, she's usually in the middle of a new creative project, making a mess along the way.
Share this article on:
The secret ingredient in this eye-catching pouch? Iridescent leatherette.
Realistic edible-paper pansies and pretty pastel macarons take this giftable edible bouquet to new heights. Here's how to make your own.
This DIY headboard project only looks like it requires an advanced degree in weaving. (Surprise: It's actually easy enough for beginners to make.)
TreasuredMemoryLane from TreasuredMemoryLane said 9 days ago
What a great recipe! Thanks for sharing.
I believe in natural beauty products I am off to making it as I have all the in ingredients on hands.
Flo A from AceOfEarth said 9 days ago
Lovely!! But sounds like a messy cleanup… maybe I would put the mixture into small organza bags with drawstrings or paper tea filters.
TropicalGarden from TropicalGarden said 9 days ago
Great recipe! Thanks for sharing:)
Celia Currin from kerrlakegifts said 8 days ago
I love it!
R.M Garrett from ArtisticAcrylics said 8 days ago
Love This!!
Renee from RandMhandmade said 8 days ago
Thank you for sharing!!
Marcel Schmitz from ThisIsRealAmber said 8 days ago
I like it 🙂
Kashuen Collectibles from Kashuen said 8 days ago
I love this recipe. I agree with some reviewer about the messy cleanup. I think I will put it into a organza bag as well. Thanks for sharing.
foofoogal54 from GracefulVtgClothing said 8 days ago
Not sure where to get himalayan salt but great idea for a gift.
Make sure your person is not allergic.
Tammy from QuinceVintage said 7 days ago
I have most of these ingredients! Will try this for valentines day gifts for the family!
Doris Sherley from GiftsbyDorisSherley said 7 days ago
So lovely! Thanks for sharing:)
Claudia Banks from ctbanks1 said 6 days ago
I absolutely love the idea but like a few before me, I would put it in an organza bag to prevent a messy cleanup. Thank you for sharing mi amore.
aressa from OriginalBridalHanger said 6 days ago
Wow! Doesn't seem that hard to do…..Thanks for sharing!
Nicole from Crackerjackarma said 6 days ago
Great ingredients ~ Thank you for the simple and inexpensive way to remind me to take care. I might make a cheesecloth pouch.
Beeeutiful luxury items below !
Sophie Juramy from SophieLadyDeParis said 6 days ago
Love the recipe! Fantastic idea!
Nuria M. from NurimuPatterns said 6 days ago
This is what i need….a hot bath, relax and enjoy!
Lovely idea, this weekend will be perfect with this ideas.
Thank you!
thanks for sharing etsy team
Anna from FairyToysWorld said 5 days ago
Think it is easy to do! Great idea for the gift)
Maria from StyleGraphicDesign said 4 days ago
Wonderful idea!
renee and gerardo from GTDesigns said 4 days ago
Great idea!! TFS!!!!
Suzanne Rorick from SRorickArt said 4 days ago
Great idea! Looking forward to trying this and I'll probably put the mixture in a fine mesh bag to reduce the clean up.
Tiana Kotskulich Precious Embroidery from TianaHandmade said 3 days ago
Great recipe! Love lavender!
Thanks for sharing:)
Jennifer Tyson from LadyInPurpleBoutique said 2 days ago
I love this and think I'll try it for Mother's Day gifts for family! Thanks for sharing!
DominatoR from dominatordesign said 2 days ago
Cool designs. Beautiful shop!
Aliza from GemstoneMarkets said 1 day ago
Nice recipe!! I like it .
Dig Deep Vintage from digdeepvintage said 1 day ago
This is one I'll be getting the word out about!
So visually beautiful too!
brooke plus kevin from WellBnB said 1 day ago
Nice recipe! Love a good self-care Sunday soak 🙂
Mary Veneri from Skoulo said 10 hours ago
Wonderful recipe!! I wish i had the time to enjoy it! Thank you anyway Jessica!!!